9509 Harwin Dr.
Houston, TX 77036
Toll Free: 1.800.691.1050
Phone: 713.334.6900
Fax: 713.334.3331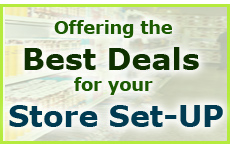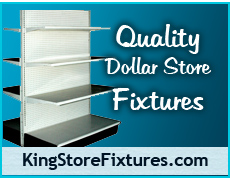 | | |
| --- | --- |
| | Buy the complete store package: |
Including store fixtures, set up, design and layout plus stocking of merchandise & turn key operations. We do everything for you from A to Z, including assistance with the grand opening of your new store and a training session afterward.
You do the set up of the store and we give you the instruction to assemble store metal gondola shelving, merchandise display, store planogram, great selection of merchandise inventory, store design and complete support system.
And we will make sure that you get wide variety of merchandise by keeping in mind your location's demographics. We will give you about 2000 different items and about 24 to 36 Pcs. of each item, which will greatly increase your daily sales. Your store will have the greatest selection of merchandise compared to your competitors, at the lowest market price.
Complete Information about How to Open a New Dollar Store Business....

All over the U.S.A., Dollar Stores are making big money. The Wall Street Journal, USA Today and Los Angeles Times have reported that Dollar Stores are one of the fastest growing and most profitable business opportunities today. You can be one of them, even without previous retail experience! Our team of experts has been putting people into business for more that 11 years. Our proven steps to success gives you everything you need, from selecting a high profitable location & a good store layout and design, to better marketing and merchandise selection.
We will assist you from A to Z to open an affordable dollar type discount retail store.
We have more than 11 years of experience in developing and complete setup of a dollar discount stores. From the customer's point of view, our stores have greater selection of quality merchandise, better values and incredible bargains.
WE ARE NOT A FRANCHISE... YOU OWN IT OUTRIGHT!! 100%, You can be on your way to owning a profitable business of your own.
We are independent developer and wholesale merchandiser, not a franchiser, thus, you own your own store 100 percent unlike a franchise, you do not have to pay any ongoing royalties or advertising fees. You will benefit from our business experience and you are buying into a Special Merchandise Buying Group, which enables you to get superior merchandise at fantastic low prices.
We are dedicated to assist discount "Dollar Stores", in every aspect of their operation, store development, training, financing and advertising.
Store Development
Many store developers require you to buy elaborate store packages filled with many things that you the new store owner do not need either buy their packages in its entirety or forget it.Our Store development division will design you a complete package, based on your individual situation, and tailor it to your individual needs.We give you the following options to open your new dollar store business:
You can have the greatest locations, the most beautiful store layout, the friendliest and hardest working employees, etc. but if you do not have the best selection of merchandise you can never have a "top of the line" Dollar Store.
If a customer walks into your store for the first time, and finds that the store really has little, if anything to choose from, you have seen that customer for the last time! Worse yet, the customer will tell all their friends about your store. "Don't bother to go to that dollar store, there is nothing in it", and thus you will loose customers, reputation and business, so please think, do your research carefully and spend your money wisely.