9509 Harwin Dr.
Houston, TX 77036
Toll Free: 1.800.691.1050
Phone: 713.334.6900
Fax: 713.334.3331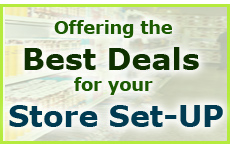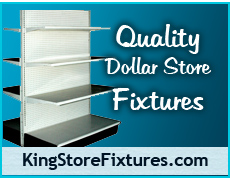 Home > Store Investement > 5000 SQ. FT.
| | |
| --- | --- |
| | Investment for 5000 Sq. ft. Dollar Store |
Brand New White Melamine Slat wall 'A' Grade, Painted polished & finished (New)
Assorted Slat wall Hooks - Large (New)
Assorted Pegboard Hooks - Large (New)
Center Aisle Gondola Shelving on both sides 2 Bases and 6 Shelves on each unit – Used ones of good quality, Neat & Clean. 4 feet wide.
End Cap Gondola Shelving Units Complete - Optional
Two white wrap counter at check stand – Brand New - 6' ft. each
Two white glass display showcase – New - 6' ft. each
New Shopping Baskets – 72 Pcs - Extra Large.
Flags & Banners – Grand Opening - New
Earring rack – Large floor stand display - New
Sunglass display rack – Large floor stand display - New
Price Gun plus extra labels + sign cards - New

| | |
| --- | --- |
| Total for Store Fixtures | $16,000.00 |
| Suggested Merchandise Inventory Required | $60,000.00 |
| Optional Services for Setting up the Dollar Store. | |
| Complete Store Set-up Cost | $14,000.00 |
The company agrees to provide the following services to the purchaser:
Unload the 53' feet truck trailer bearing the initial merchandise load and store fixtures.

Assemble gondola shelving, slat wall boards, checkout counter, glass display, showcases and other display racks.

Complete installation of store fixture as indicated in the Planogram.

Organize and stock merchandise logically and neatly on the aisles, shelving, show cases, display racks, wall gondolas and slatwall boards.

Includes Food, Motel, Travel, Rent-a-car and other miscellaneous expenses for our employees that we provide.
Your Responsibilities:
To obtain all local City Permits.


To provide us with 1 to 2 able bodied unskilled workers from your neighborhood to supplement our employees in tasks such as
> unloading the truck
> gathering empty boxes
> collecting and dumping trash
> cleaning up and other manual labor including stocking and displaying merchandise on the shelves.

To provide us with a reasonable trash dump facility.

NOTE:
The reason why we are requesting you to provide us with unskilled workers from your end is to avoid additional charges that you may incur if we will have to fly them in from our location. It is pointless for you to spend extra money on unskilled workers that we might otherwise have to provide at our expense. Therefore it is imperative that you have us provide you with only skilled workers to setup your store and have the unskilled workers provided from your end.
This is why we are able to quote you reasonable price on the optional services that we provide you with.
THIS IS A TURN KEY SOLUTION THAT LEAVES YOU NO STRESS OTHER THAN JUST THE COMPLETE STORE READY TO GO AND FOR YOU TO OPERATE THE CASH REGISTER AND START YOUR NEW BUSINESS.